Instant Pot Apple Pie Oatmeal
This Instant Pot Apple Pie Oatmeal recipe is thick and creamy with all the apple pie spices you love. This great recipe is an easy, dairy free, vegan friendly breakfast, perfect for crisp autumn mornings with coffee and a bowl of oatmeal.
The best part about this breakfast recipe? There is no prep time, and it's done completely in your electric pressure cooker. I use the Duo Crisp for all my air fryer and instant pot recipes. This is so quick and delicious, it took less than 30 minutes from when I pulled out my instant pot and apples and decided to make it, and only 6 minutes high pressure cooking time.
My husband is a big oatmeal fan and he loved this recipe stuffed with apples, spices, brown sugar, maple syrup, and everything else delicious about autumn!
For another breakfast option, try my Breakfast for Dinner!
What do I need to make Apple Pie Oatmeal in the Instant Pot?
An instant pot.
Rolled oats. You can use steel cut oat in the instant pot as well, but keep in mind that they might be much chewier.
Apples. I used 3 small MacIntosh apples.
Brown Sugar. I used 1/2 cup, but you can lessen the amount if you prefer a less sweet oatmeal.
Apple Pie spices – I used cinnamon, ginger, nutmeg, cloves, and allspice. You can also buy a a blend of apple pie spices already packaged together. Nothing better in the fall than apple and cinnamon!
Almond milk. You can use regular whole fat milk as well, but it will not be vegan friendly.
Maple Syrup. I used pure maple syrup and recommend it, but any maple syrup you have will be fine.
How to make Apple Pie Oatmeal in the Instant Pot
Because the instant pot will do all the work for you, this requires pretty much no prep!
I do not peel my apples first, but you can do that if you wish. Core and slice your apples (don't worry about cutting them too small – the instant pot will cook them down anyway.)
Add your apples into the pot first, followed by brown sugar, spices, and rolled oats. Cover it all with almond milk, then close the pot and cook on high heat for 6 minutes. Do a quick release, then open the pot and mix it all together. Add in the maple syrup, mix it again, and the oatmeal is ready to be enjoyed!
Oatmeal Toppings
This oatmeal is super flavorful on it's own, but I recommend the following toppings: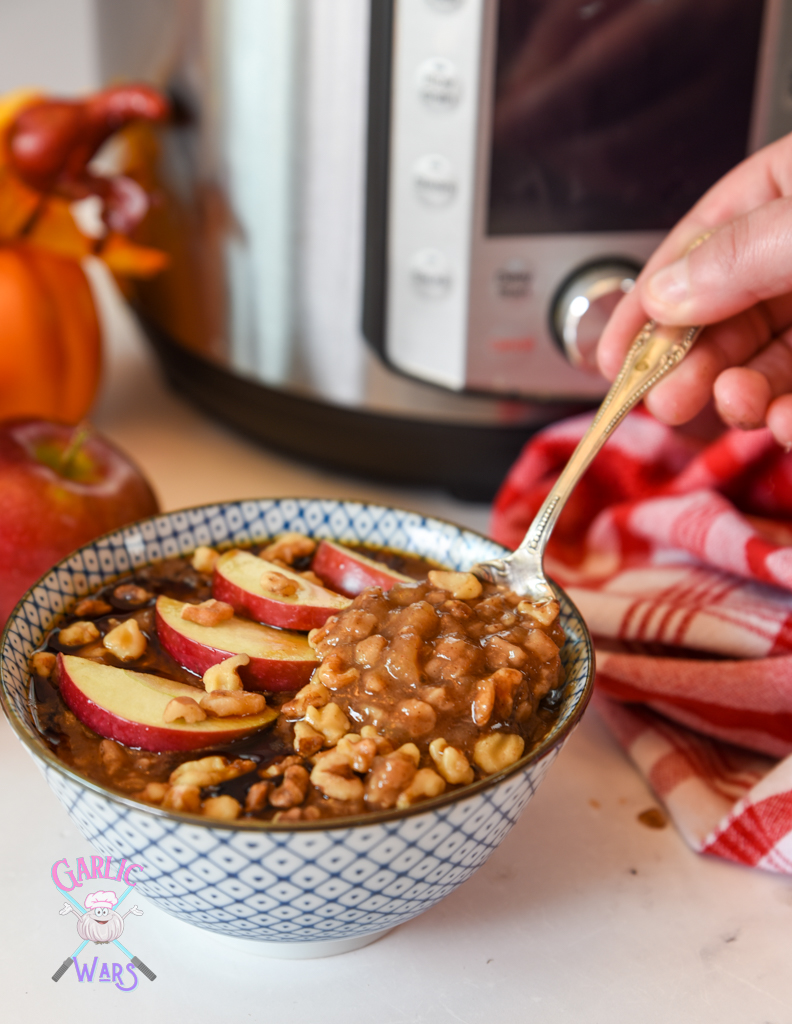 Sliced apples.
Walnuts.
Maple Syrup.
Demerara sugar.
Storage and Make Ahead
Since this is so easy to make, I don't think any make-ahead will be necessary, but this stores beautifully for up to 3 days. Microwave for a minute to heat back up and enjoy!
Instant Pot Apple Pie Oatmeal
Tasty and spicy apple pie oatmeal made in the instant pot!
Ingredients
3 small apples
1 cup rolled oats
1/2 cup brown sugar (reduce if you want less sweet)
1/2 tsp cinnamon
1/4 tsp each of cloves, ginger, nutmeg, and allspice
2 1/4 cups almond milk
2 tbsp maple syrup
Instructions
Add slices apples to instant pot. Add in brown sugar, spices, and rolled oats, then cover with almond milk.
Cook at high pressure for 6 minutes. Do a quick release, then open pot. Stir together well, then add maple syrup and stir again.
Top with more maple syrup, sliced apples, and walnuts.