Coffee Chocolate Chip Cookies with Caramel Swirl
The softest chocolate chip cookies loaded with espresso and swirled with salted caramel, these Coffee Chocolate Chip Cookies are like a caramel macchiato in cookie form!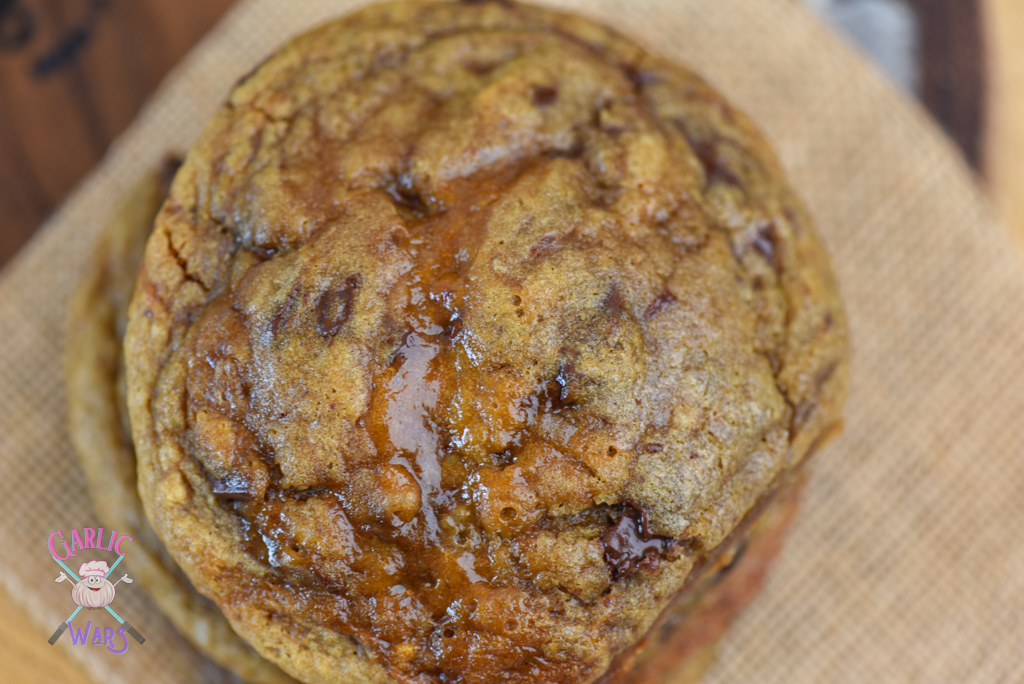 Cookies are by far my favorite kind of treat to make. The most popular recipe on my blog are my Peanut Butter/Chocolate/Caramel Sumbitches, and my favorite midnight snack is my Celebration Cookies. I'm always looking for different ways to switch up cookie flavors, or find new add-ins!
And these cookies? They're addicting. They just melt on your tongue, and the combo of slightly bitter espresso with sweet caramel, pools of melted semi-sweet chocolate, and the buttery vanilla of the cookie base makes for a perfect and addicting bite.
What do I need to make Coffee Chocolate Chip Cookies?
Unsalted melted butter.
Sugar – you will need brown sugar and granulated sugar. There's a larger amount of brown sugar in this recipe, for adding flavor and to amp up the softness.
Eggs. One whole egg and one egg yolk – the egg yolk makes this dough extra thick and chewy.
Vanilla extract. Vanilla is a strong flavor in cookies, so I always recommend using pure vanilla extract – not the fake stuff.
Instant espresso powder or instant coffee granules. It will be a small amount in a bit of water, for a super concentrated bit of coffee for your cookies.
All purpose flour.
Salt. Never skip salt in cookies – it totally elevates the flavor.
Corn starch and baking soda are the leavening agents. Corn starch for thick cookies – these will still spread, but the corn starch helps. Baking powder, baking soda? Read about the difference here.
Semi sweet chocolate chunks or chips. You can also use milk or dark chocolate.
Caramel sauce. Either store bought, or you'll need sugar, water, heavy cream, and vanilla to make it yourself.
Caramel Sauce
There are two options with caramel: you can either very carefully swirl it directly in the dough (keep in mind, the cookies will spread more if you do this, but it makes for a completely delectable bite) or you can drizzle on the caramel after the cookies have baked and cooled. I swirl the caramel right in the dough.
Making homemade caramel is very easy if you follow the steps carefully, and have patience with it. Patience both with making the caramel and allowing it to cool completely to room temperature before adding to anything (this will take hours.) Sugar gets VERY hot, and needs to be handled with care.
How to make Coffee Flavored Chocolate Chip Cookies
These cookies are a very typical recipe, with one special ingredients added: espresso powder.
In a large bowl, take the melted butter and sugars and whisk together until it is smooth and completely lump-free. Add in the eggs and vanilla, and whisk again.
Now you want to make a very concentrated bit of coffee – 1 tablespoon of instant espresso and 1 tablespoon of water mixed together and added to the batter.
Add dry ingredients and chocolate and slowly fold it all together. Take a couple spoonfuls of caramel sauce and give it a very gentle fold – you should still see streaks of caramel in the dough.
Chill the dough for AT LEAST 3 hours. For best results, overnight – I know the wait is hard, but these cookies are very worth it!
Once the dough is chilled, preheat the oven to 350 and roll in dough balls – the balls should be taller rather than wider.
Storage and Make Ahead
Because of the caramel, I do not recommend freezing these – but I doubt there will be any left!
To make ahead, make the cookie dough and leave in the fridge covered for up to two days – roll into balls and bake whenever you're ready.
Coffee Chocolate Chip Cookies with Caramel Swirl
Total Time:
3 hours
22 minutes
The softest coffee chocolate chip cookies loaded with espresso and swirled with salted caramel to make a cookie like a caramel macchiato!
Ingredients
Caramel Sauce
3/4 cup water
1 cup granulated sugar
1/2 cup heavy cream
1 tsp vanilla
1 tsp sea salt
Coffee Chocolate Chip Cookies
3/4 cup melted unsalted butter
3/4 cup brown sugar
1/2 cup granulated sugar
1 egg + 1 egg yolk
2 tsp vanilla extract
1 tbsp instant espresso powder mixed with 1 tbsp water.
2 3/4 cups all purpose flour
1 tsp baking soda
1 1/2 tsp corn starch
1 tsp salt
1 4oz bar baking chocolate, chopped, or 1/2 cup chocolate chips
2 tbsp caramel sauce
Instructions
Caramel Sauce: Mix heavy cream and vanilla together. Set aside.
Caramel Sauce: Add sugar and water to a small saucepan and give it a small mix together. Put on medium heat. After the mixture is on the heat, DO NOT mix it anymore.
Caramel Sauce: Heat until sugar is totally dissolved, and mixture has turned a deep amber color.
Caramel Sauce: Remove from the heat and pour in heavy cream mixture while quickly whisking it all together. There will be a lot of steam at this point and the sugar will be VERY hot. Use a large whisk so your hand is not too close, and DO NOT touch or taste the caramel.
Caramel Sauce: Add in salt, and transfer to a small jar to let cool completely. This will take hours.
To make the cookies, whisk flour, baking soda, corn starch, and salt together in a large bowl, then set aside.
Mix sugars together with the melted butter until completely smooth and lump free. Add in egg, egg yolk, and vanilla. Mix again until smooth.
Add 1 tbsp espresso powder to 1 tbsp water. Whisk together, then add to butter mixture. Whisk until completely incorporated.
Add dry ingredient mixture to butter mixture. Slowly fold in until only a little bit of flour is still visible. Add in chocolate chips, then finish folding together.
Add caramel sauce, and gently swirl into cookie dough. There should be visible streaks of caramel throughout the dough.
Chill for at least 3 hours (preferably overnight).
Once dough is chilled, preheat oven to 350. Roll dough into balls of about 3-4 tbsp each. Roll into balls that are taller rather than wider.
Bake for about 10-12 minutes. The cookies will look underdone when you take them out, and they will stay soft.