A cross between soft and chewy chocolate chip cookies, a sprinkle filled birthday cake, and a bag of Halloween candy. These Cake Batter Celebration Cookies are the perfect way to say Happy Birthday, or as a special treat for yourself.
I had to call these cookies "Celebration Cookies" because they are absolutely perfect for a party! Stuffed full with white chocolate chips, dark chocolate chips, mini m&m's, Oreo's, and sprinkles, who wouldn't want these at their birthday party?! Birthday cookies for anyone who wants something different from the normal birthday cake, or great for a birthday gift basket!
Friends and family will love these cookies! You can also try my Reese's Stuffed Double Chocolate Cookies for another crowd pleaser!
What do I need to make Celebration Cookies?
All purpose flour, baking soda, corn starch, and salt. Corn starch is the secret ingredient to keep these cookies thick and fudgy.
Melted butter. Melting the butter will make the cookies a bit more chewy, but if you follow all the tips, the cookies should not spread too much.
Granulated sugar and brown sugar. More brown sugar for both flavor and softness.
Egg and egg yolk. The extra yolk will increase chewiness and makes the cookies a bit more rich.
Cake Batter Flavoring. This is the specific flavoring I used, but I believe McCormick makes a Cake Batter Extract as well. If you do not have Cake Batter extract, you can do half vanilla extract/half almond extract for the same effect.
Dark Chocolate Chips (Milk Chocolate Chips are okay too – dark is just my preference).
White Chocolate Chips.
Mini M&M's.
Mini Oreos.
Rainbow Sprinkles.
How do I make Birthday Cake Cookies?
Take all your dry ingredients – flour, salt, baking soda, and cornstarch – mix together, then set aside.
In a large bowl, mix the melted butter with the sugars after butter is slightly cooled after melting. Whisk until butter and sugars are completely combined. Add the egg, egg yolk, and cake batter extract, and mix until completely combined.
Take the flour mixture and slowly fold into the butter mixture. Mix until most of the flour is fully incorporated – some flour can still be visible at this point.
Take all mix-ins and slowly mix in.
Once your dough is complete, refrigerate. This is not an optional step – the cookies MUST be refrigerated, or else they will spread all over the place.
After cookies are refrigerated, you can start rolling them into balls. My cookies were in balls that measured about 80 grams each. This will come to about 3-4 tablespoons, but I recommend investing in a kitchen scale for this.
Roll the cookie dough balls taller rather than wider, to prevent a lot of spread. Place the dough balls on a cookie sheet (at least once inch apart) and place them in the fridge to cool completely (the heat from your hands would have softened the dough again.) Heat the oven to 350 and once the oven is ready, take the cookie sheet straight out of the fridge and into the oven.
Storage and Make Ahead
After making the cookie dough, you can keep it in the fridge for up to 48 hours. If you want to freeze, I find it best to freeze the completed dough balls and still bake them straight from the freezer – they just might need an extra minute or so.
After the cookies are made, they should be kept at room temperature. I have never frozen the completed cookies, so I cannot give recommendations for that – but I doubt there will be any left to freeze.
Tips and Tricks
Be very careful when adding mix-ins. It is tempting to add a whole bunch of M&Ms and other goodies, but adding too many mix-ins will cause the cookies to set weirdly. You want to appreciate the flavor from the butter, sugar, and extract, as well as the mix-ins.
Patience is your friend when baking. If you try to rush the process, the cookies will not come out as good as they can.
If you cannot obtain Cake Batter Extract, use half vanilla and half almond.
These will look underdone when you take them out of the oven. That is okay – take them out anyway. They will continue cooking while they cool.
Pair these with my White Chocolate Cappuccino Bombs for a totally homemade gift basket!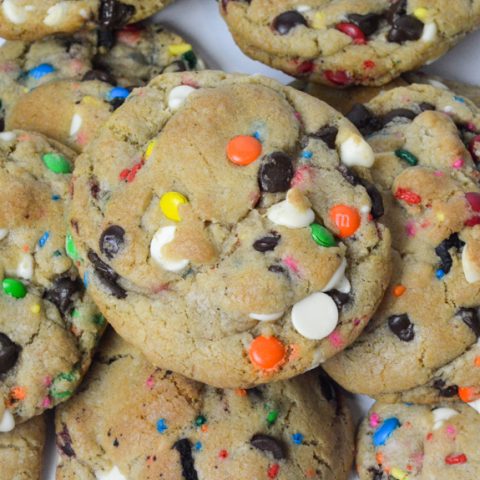 Celebration Cookies
Total Time:
3 hours
22 minutes
A cross between soft and chewy chocolate chip cookies, a sprinkle filled birthday cake, and a bag of Halloween candy
Ingredients
2 3/4 cups all purpose flour
1 tsp baking soda
1 1/2 tsp corn starch
1 tsp salt
1 cup melted butter
3/4 cup brown sugar
1/2 cup granulated sugar
1 egg
1 egg yolk
1 tsp cake batter extract (or 1/2 tsp vanilla extract and 1/2 tsp almond extract)
1/2 cup chocolate chips
1/2 cup white chocolate chips
1/2 cup mini m&m's
1/4 cup mini oreos (or crushed full-size oreos)
1/2 cup sprinkles
Instructions
Mix together flour, baking soda, corn starch, and salt. Set aside.
Whisk slightly cooled melted butter and sugars together until completely combined. Add in egg, egg yolk, and extract and whisk together.
Slowly fold flour mixture into butter mixture. Mix until it is nearly fully incorporated, and a tiny bit of flour is still visible.
Add in chocolate chips, white chocolate chips, m&ms, oreos, and sprinkles. Fold it all together just until it all forms one dough. Be careful not to overmix.
Refrigerate for AT LEAST one hour. I recommend 3 hours, or overnight for best results.
After dough is chilled, roll into balls about 80 grams or 3-4 tablespoons each. Roll balls taller rather than wider. Place on a cookie sheet, with cookies at least an inch and a half apart (you will probably need more than 1 cookie sheet.)
After all dough balls are rolled, preheat oven to 350. Place cookie sheet with dough balls in the fridge while the oven is preheating. Once the oven is ready, take the cookie sheet directly from the fridge and place into the oven.
Bake for 10-12 minutes. The cookies will look slightly underdone at this point - that's okay. They will continue cooking as they cool.
Let cool slightly before serving.