Breakfast for Dinner from WandaVision
Breakfast for Dinner is a staple both in television sitcoms and in real-life homes across the world. Our twist on the classic home-cooked meal is a cheddar and bacon waffle, topped with a fried egg, with a side of spicy sweet potato home fries.
One of my favorite memories of early 2021 was waking up at the actual crack of dawn so I could watch the latest episode of Marvel Studios WandaVision. And 8 months later, it's still on my mind. WandaVision was the perfect blend of mystery, romance, superhero, sci-fi, and just a touch of creepiness, all come together to make a completely excellent television series – one that I've already rewatched twice.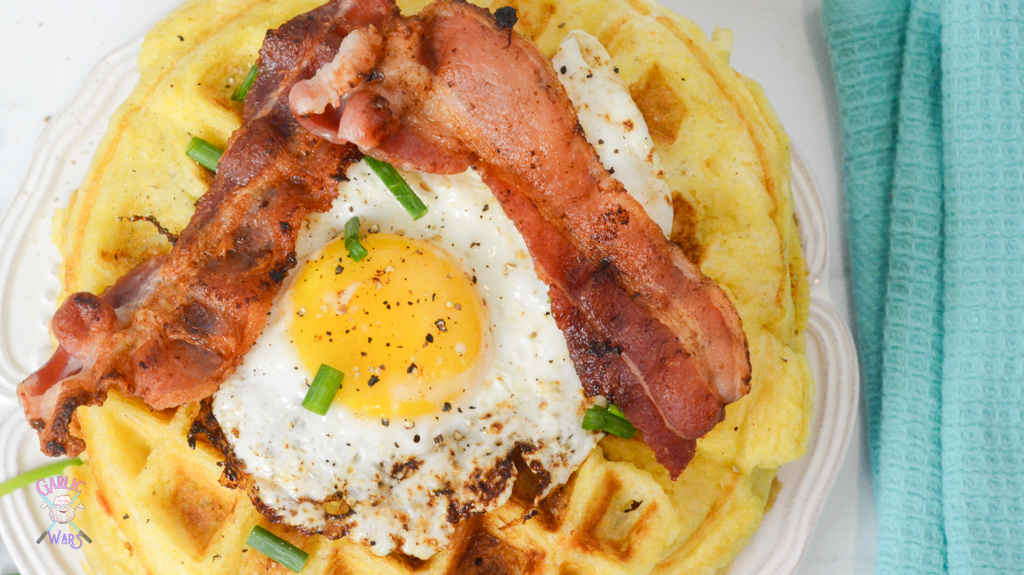 Wanda Maximoff has been my favorite character in all of the Marvel Cinematic Universe since her appearance in Avengers: Age of Ultron. Watching her go through classic sitcoms because they were her childhood favorite, so she could hang on to everything she lost… It hit hard. She deserves more.
Favorite WandaVision Quotes:
"What is grief, if not love persevering?"
"I don't need you to tell me who I am."
All of "It was Agatha all along".
"You, Vision, are the piece of the mind stone that lives in me."
"Thank you for choosing me to be your mom."
For more MCU fun and discussion, check out my 13 Best Characters from Loki! Check back for my article on Falcon and the Winter Soldier!
So, in appreciation of my favorite character and her show, I am making her dish from the very first episode, with my own twist.
Bacon & Cheddar Waffles
The WandaVision dinner looked like a more straightforward breakfast – scrambled eggs, toast, sausage links. Because I love being in the kitchen, I had to do something a bit more extra with my main dish – a savory waffles recipe.
What do I need to make Bacon & Cheddar Waffles?
A waffle maker. Any waffle maker you have is fine, but linked is the one I used.
Flour, corn meal, corn starch, and baking soda.
Salt and pepper.
Eggs.
Buttermilk.
Melted Butter.
Cheddar cheese.
Bacon.
Chives, for topping.
Any toppings of your choice – you can add something sweet like maple syrup, or top with hash browns, or go with my suggestion of a fried egg.
How do I make Bacon Cheddar Waffles?
This is a very straightforward waffle recipe. Mix together the dry ingredients in a medium bowl. In a separate bowl, mix the buttermilk and eggs. Bring the dry mixture and the wet mixture together with a few stirs, then fold in the butter, cheddar cheese, and chopped bacon.
My waffle iron took about 3 minutes per waffle and made 4 waffles, but make your waffles according to your waffle maker.
Sweet Potato Home Fries
I will let you in on my little secret: I prefer sweet potatoes to normal potatoes. I believe that any typical potato dish is elevated by transforming it into sweet potato. The home fries are the best I've ever had and they are SO easy to make.
What do I need to make Sweet Potato Homefries?
Sweet potatoes. I do not peel them.
Olive oil.
Chili powder.
Paprika.
Dried parsley and dried oregano.
Garlic powder.
Cinnamon.
Salt & pepper.
Fresh parsley and green onions, for topping.
Making the sweet potato home fries is as easy as combining all the ingredients (besides toppings) mixing together and baking.
Side Dishes
These two dishes are perfect on their own, but if you want to make an even more extravagant breakfast for dinner, I recommend serving with a side of french toast, any egg dishes, toast, sausage links, or any kind of baked egg casserole.
Let me know in the comments if you're also a fan of WandaVision!
Cheddar Bacon Waffles
A thick and pillowy savory waffle stuffed with cheddar and bacon, topped with a fried egg and chives.
Ingredients
1 1/4 cup all-purpose flour
1/2 cup yellow cornmeal
2 tablespoons corn starch
1 tsp baking soda
1 tsp salt
1/4 tsp black pepper
2 cups buttermilk
2 eggs
1/4 cup butter, melted and cooled
1/2 cup shredded cheddar cheese
1 tbsp finely chopped bacon, optional
Instructions
Mix together flour, cornmeal, corn starch, baking soda, salt, and pepper. Set aside.
Whisk buttermilk and eggs together until smooth.
Fold the flour mixture with the egg mixture. Be very careful not to overmix - it should still be lumpy.
Slowly fold in the melted butter, cheddar cheese, and bacon bits, until just incorporated. The waffle batter should still be lumpy.
Preheat waffle iron and spray generously with nonstick spray. Cook according to your waffle maker.
Top with fresh chives, strips of bacon, and a fried egg. Serve immediately.
Sweet Potato Home Fries
Sweet potato home fries cooked with oil and spices, topped with green onions.
Ingredients
6 sweet potatoes, cut and diced.
2 1/2 tbsp olive oil.
2 tsp chili powder
1 tsp paprika
1 tsp salt
1/2 tsp black pepper
3/4 tsp dried parsley
3/4 tsp dried oregano
1/2 tsp garlic powder
1/4 tsp cinnamon
2 green onions, chopped, for topping
1-2 tsp chopped fresh parsley, for topping
Instructions
Preheat oven to 400.
Cut and dice potatoes, then toss in the olive oil until completely coated.
Add all spices, and toss the potatoes again.
Spread across a baking sheet, and bake for 22-25 minutes, or until tender. A fork should be able to easily poke into the potato.
Remove from the oven and let cool slightly, then top with green onions and fresh parsley.