"Simply the Best" Cheesy Chicken Enchiladas
My favorite cheesy chicken enchiladas are super easy to make, with a homemade red enchilada sauce, perfectly grilled and seasoned chicken, and a ton of cheese! These are "simply the best" – no cheese folding required.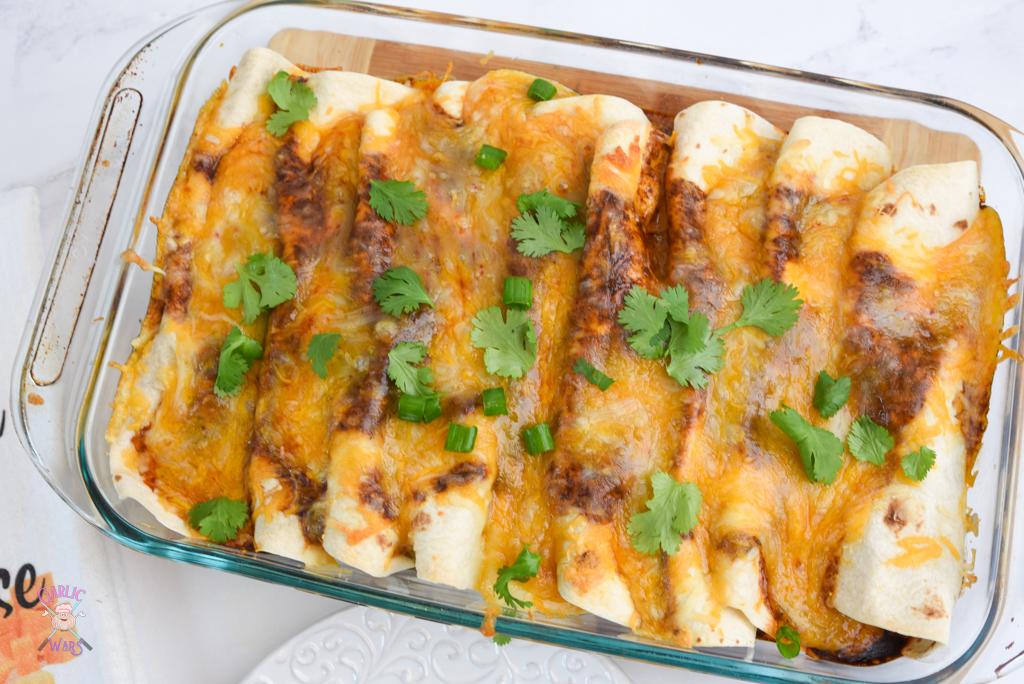 This is not my first recipe on the blog celebrating Schitt's Creek (and it will not be my last.) I've rewatched 3 times now, and every rewatch gives me more ideas of how to incorporate one of my favorite shows ever made into the other love of my life – food.
Schitt's Creek is the most heartfelt comedy I've ever watched, so I made this chicken enchilada recipe with a lot of love and care – and it's one of my husbands favorite dinners.

Pair with my Simply the Best Sangria for a Schitt's Creek themed night!
What do I need to get started?
Chicken breast, which you are going to generously season and then cut into small cubes. You can also cook and shred chicken, if that if your preference.
Green Chiles.
Onion.
Corn tortillas are traditionally used in enchiladas, but you can use flour tortillas as well.
Monterey Jack shredded cheese, and shredded cheddar cheese.
Any toppings of your choosing – cilantro, sour cream, tomatoes, salsa verde.
A large baking dish. The one linked is my absolute favorite – I use it for everything.
Homemade Red Enchilada Sauce
Butter and flour.
Chili powder.
Garlic powder.
Ground cumin.
Dried oregano.
Chicken stock.
Salt and pepper, to taste.
How to make homemade enchilada sauce
Making enchilada sauce at home is so easy – you will never want the store-bought stuff again.
Melt the butter over the stove in a small saucepan. Once it is melted, add the flour – you are making a quick roux. Mix the flour and butter together until it is nice and smooth, about 1 min. Then add all the taco seasonings, and mix for another minute. It will clump together. Add chicken stock and whisk until smooth and clump free, then simmer for 12 minutes, until thickened. Transfer to a medium bowl to cool while you cook the chicken.
How to make Cheesy Chicken Enchiladas
Start by generously seasoning your chicken with salt and pepper, then cutting into bite-sized cubes. Heat some olive oil on a pan, and add onions. Cook until the onions are soft, then add cubed chicken and green chilis.
I do not eat beans, so beans are not included in this recipe – if you wish to add beans, add them at this point.
Cook chicken for about 8 minutes, or until cooked all the way through.
Assembling Enchiladas
Take a tortilla and spoon on some of the red enchilada sauce. Spread across the tortilla. Though it is tempting to overload every tortilla with enchilada sauce, a little bit goes a long way.
Add the chicken/onion/chile mixture. Again, just a few pieces will do the trick.
Then you add the cheese – this is where you want to be generous. Add a ton of cheese to the tortilla, before you fold in each end, to seam the sides.
Arrange the tortillas in your baking dish, fitting in as many as you can – this recipe will have enough for about 10 tortillas.
Top with the remaining enchilada sauce and remaining cups shredded cheese. Bake that off for about 10 minutes.
Make Ahead and Storage
You can keep this covered in the fridge for 2-3 days, but they are best eaten fresh. I recommend serving them straightaway, and I do not recommend freezing them at all. If you wish to save time, make the enchilada sauce the day of, then keep it in a mason jar in the fridge until it's time to make the enchiladas.
So make yourself some of these super easy chicken enchiladas (no cheese folding required), and marathon Schitt's Creek – you deserve it.
Cheesy Chicken Enchiladas
Additional Time:
15 minutes
Chicken enchiladas with homemade red sauce and loads of cheese!
Ingredients
Red Enchilada Sauce
2 tbsp butter
2 tbsp flour
1/4 cup chili powder
1/2 tsp garlic powder
1/2 tsp ground cumin
1/4 tsp dried oregano
2 cups chicken stock
Salt and pepper, to taste
Chicken Enchiladas
2 lbs chicken breast, cubed
2 tbsp olive oil
1 small onion, chopped
1 4oz can green chiles
10 large corn tortillas
1 cup Monterey Jack Cheese / 1 cup Cheddar Cheese (mixed together)
1 batch enchilada sauce
Sour cream, for topping
Salsa, for topping
Chopped cilantro, for topping
Instructions
To make the enchilada sauce, melt the butter in a small saucepan over medium heat. Once butter is melted, add flour. Whisk together for 1 minute.
Add chili powder, garlic powder, cumin, and oregano. Mix for about 30 seconds. It will clump together.
Add in chicken stock, and whisk until clump free. Turn the heat down to medium low and simmer for 12 minutes, or until sauce is thickened. Add salt and pepper to taste.
To make chicken enchiladas, heat olive oil in a large pan over medium high heat. Once oil is heated through, add chopped onion and cook until soft.
Add the cubed chicken and green chiles and cook for about 8-10 minutes, or until chicken is cooked all the way through. Add salt and pepper to taste.
Preheat oven to 350.
To assemble enchiladas, spread a small spoonful of enchilada sauce over a tortilla. Add a few pieces of chicken, and some cheese. Fold and put in the baking dish. Repeat until all of the chicken is gone.
Drizzle remaining sauce over the top, and top with remaining cheese. Bake for 20 mins.
Top with sour cream, salsa, and cilantro.
Nutrition Information
Yield

10
Serving Size

1
Amount Per Serving
Calories

385
Total Fat

18g
Saturated Fat

8g
Trans Fat

0g
Unsaturated Fat

9g
Cholesterol

108mg
Sodium

564mg
Carbohydrates

18g
Fiber

3g
Sugar

2g
Protein

38g