Pumpkin Chili is a warm and cozy stew, stuffed with corn, white beans, diced tomatoes, bell peppers, and pumpkin puree, with a bit of heat from hot Italian sausage. This chili is perfect for autumnal nights with leftovers for days!
My fall festivities have already been kicked into high gear, with recipes such as Instant Pot Apple Pie Oatmeal and Pumpkin Mousse, but the autumn and pumpkin fun doesn't begin and end with dessert. This Pumpkin Chili recipe is a homey and inviting family favorite dinner that will feed everyone for days! This recipe is also gluten free, and can easily be made vegan friendly by removing the sausage.
What do I need to make Pumpkin Chili?
A large pot or dutch oven.
Onions, garlic, and bell peppers.
Diced tomatoes.
Corn. I used frozen, but you can use canned or fresh as well.
Pumpkin puree. NOT pumpkin pie filling!
Beans. I used white beans rather than black beans or kidney beans, but any beans of your choice will be great.
Hot Italian ground sausage. Most recipes will call for ground turkey or ground beef, but the hot sausage added just the right touch of heat to the dish.
A good squirt of honey to offset the heat, and a dash of apple cider vinegar to add some acidity.
Chili powder, cinnamon, nutmeg, dried thyme, salt and pepper.
How to make Pumpkin Chili
Chili is a very easy dinner – most of it is just waiting, and then you will have dinner for a few days!
You start by cooking the veggies in the dutch oven with some olive oil. Chopped onions and bell peppers to start, then add garlic, dried thyme, half the chili powder, plus salt and black pepper.
Once the veggies are cooked and soft (not brown) add the sausage.
After sausage is cooked, add the corn, beans, and pumpkin puree. Give it all a good mix and then let it cook together, releasing all the juices, stirring occasionally.
Add the remaining chili powder, cinnamon, and nutmeg. Taste and add salt and pepper as needed, then add the honey and apple cider vinegar.
This should all come to a boil, then turn the heat down and let it cook and thicken for about 20-30 minutes over a low heat.
Toppings
Sour Cream is a great way to offset the heat from the sausage.
Greek Yogurt can be used in place of sour cream and adds a great tang to the dish!
Fresh parsley.
Shredded cheddar cheese.
Scallions.
Fritos or Doritos (for crunch!)
Hot sauce, if you want more heat!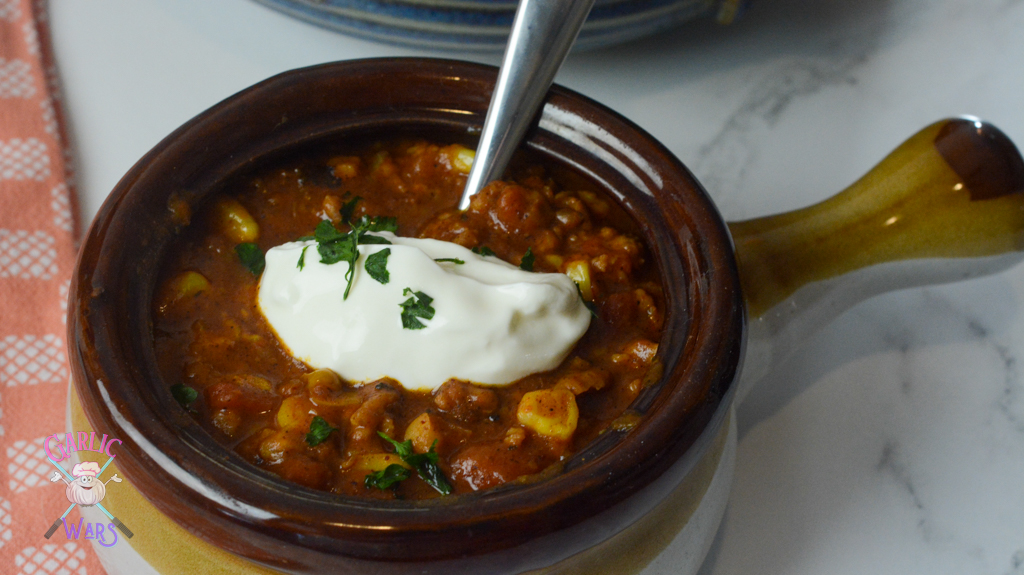 Storage and Make Ahead
Chili makes for great leftovers, which is why I recommend using a dutch oven – cover it and keep in the fridge for 3 days!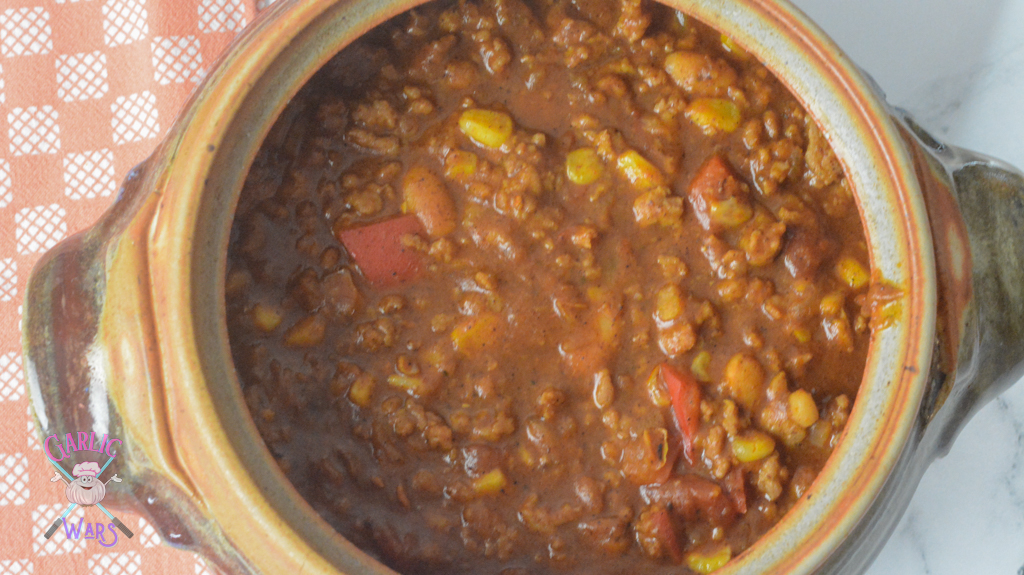 Crock Pot?
This can be made in the slow cooker – cook the sausage on a pan, drain the fat, then add it with all other ingredients to the crockpot. Cook on low for 8 hours or high for 4 hours.
Pumpkin Chili
Warm and cozy chili made with pumpkin puree! Perfect for the fall!
Ingredients
2 tbsp olive oil
1 yellow onion, chopped.
2 bell peppers, red or green, chopped.
1 tsp minced garlic
6 tablespoons chili powder, divided in half.
Salt and pepper, to taste
1 tsp dried thyme
2 lbs ground hot Italian sausage
1 14.5oz can diced tomatoes
1 15oz can white beans
1 16oz bag frozen corn (or an equal amount fresh or canned corn)
1 1/2 cup pumpkin puree
1/4 tsp nutmeg
1 tsp cinnamon
2 tbsp honey
1 tbsp apple cider vinegar
Instructions
Add olive oil to a large pot or dutch oven, and heat over medium heat. Once oil is heated through, add chopped onions and peppers.
Cook onions and peppers until they are soft (not brown), then add garlic, 3 tbsp chili powder, dried thyme, salt, and pepper. Cook for about 1 minute.
Add ground sausage and cook until sausage is no longer pink, crumbling with your wooden spoon. This will take about 5-6 minutes, or until cooked all the way through.
Add tomatoes, beans, corn, and pumpkin puree. Mix together and let cook for about 5 minutes, until it's thickened a bit.
Add remaining chili powder, cinnamon, and nutmeg. Cook for another 5 minutes, stirring occasionally. Taste and add more of any seasoning to your liking.
Add the honey and apple cider vinegar. Bring everything to a boil, then turn the heat down to the lowest setting.
Taste, then add more salt and pepper as needed.
Cook on low heat for 25-30 minutes, stirring occasionally.
Remove from heat and serve with sour cream or Greek yogurt!
Cover and save for 3-4 days.