This Smoked Queso recipe was made on the smoker and ready in under 20 minutes! The delicious smoky flavor will bring you typical queso dip to an entirely new level and keep everyone coming back for more.
This summer has been a summer for the smoker. I made my Smoked Pork Tacos, this new queso recipe, and throwing everything I can think of on the smoker to get that wonderful natural smoky flavor, without liquid smoke.
And if you don't have a smoker, I highly recommend investing in one! You'll want to smoke everything and your life will be all the better for it :). The one I use is a Pit Boss.
Try making my Peach Salsa to serve with the Smoked Queso for a nacho buffet!
What do I need to get started?
Let's talk about cheese! Queso Dip is typically made with velveeta cheese, which I included here, along with three other cheeses! For all of them, I opted for blocks of high quality cheese over shredded and bagged cheeses. This is a super cheesy, super smoky, smoked cheese dip!
Velveeta cheese.
Cheddar cheese.
Pepper jack cheese.
Cream cheese.
Heavy cream, to make this extra creamy.
Green chiles.
Rotel tomatoes, or fresh diced tomatoes.
Jalapenos.
Cooked chorizo sausage. I did this for the extra spicy, but you can use a breakfast sausage if you prefer.
Chili powder.
Cumin.
Fresh cilantro.
Any dippers of your choice; tortilla chips and sliced bell peppers are always good.
How to make Smoked Queso Dip
I found this Smoked Queso Dip to be even easier than slow cooker recipes or even the Instant Pot. It is a simple adding ingredients to a pan and letting it cook for a few minutes! No lost hours stirring this dip!
Start by preheating your smoker to 225, then get your pan. I chose to make this in a cast iron skillet, but you can use a disposable foil pan and that will work just as well.
Add all the cheeses to the pan, then pour over the heavy cream.
Sprinkle on all the remaining ingredients, except the chopped cilantro.
Smoke for about 30 minutes – the time may vary depending on your smoker. Mine was nice and melty after only 20 minutes.
Take a wooden spoon and stir everything together, then let smoke for another 10 minutes.
Remove from the smoker and stir in the chopped cilantro. Serve hot.
How long is Smoked Queso good for?
Smoked Queso will last up to 5 days in the fridge in an airtight container. To reheat, place the desired amount of queso on a microwave safe dish and microwave in 30 second intervals for 2 minutes total, stirring in between each.
Can I freeze Smoked Queso?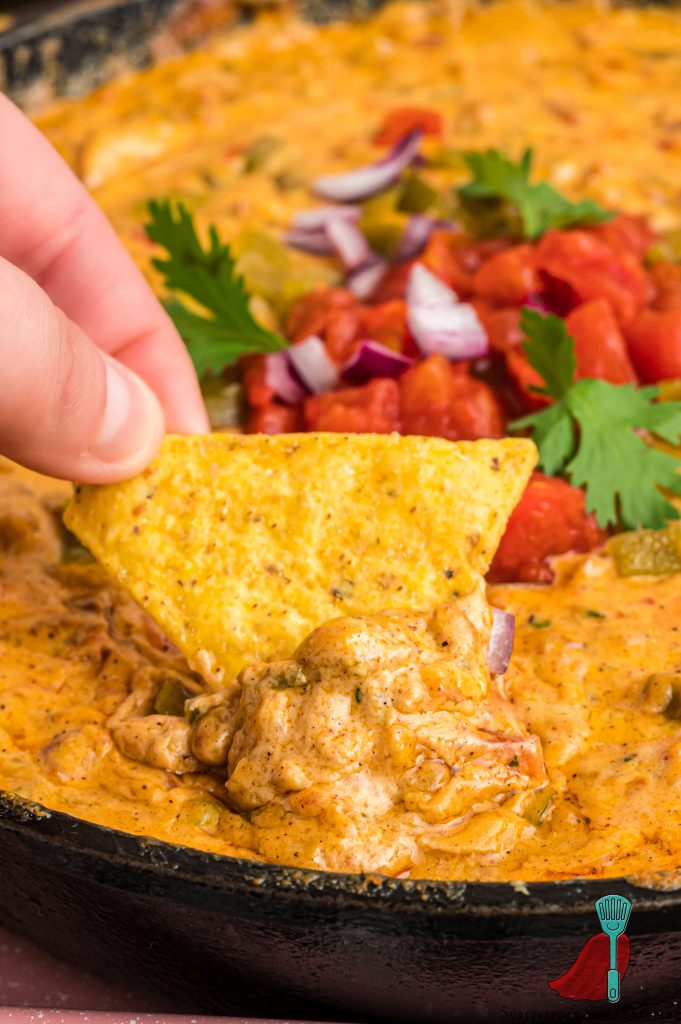 I do not recommend freezing queso. The cheeses and cream do not lend to it freezing well. The good news is, because this dip recipe is so delicious, there won't be any left over!
Can I make this in the oven?
If you do not have a smoker, you can absolutely make the queso in the oven. Follow all the same directions, then cook in the oven at 375 for 30-40 minutes. Stir well when there's about 10 minutes left. You can add in a touch of liquid smoke if you don't want to sacrifice that great smoky flavor.
Tips and Tricks
If you don't care for chorizo sausage, you can replace with any other sausage you love. You can also replace it with ground beef, but because of the change, the beef would have to be fully cooked beforehand!
If you are not satisfied as a result of the heat, you can remove the jalapenos with no replacements.
To up the smoky flavor, try finding some smoked cheeses!
Smoked Queso
Deliciously spicy Smoked Queso Dip.
Ingredients
8 oz cheddar cheese, shredded
8 oz pepper jack cheese, shredded
8 oz velveeta cheese, cubed
8 oz cream cheese, cubed
1/4 cup heavy cream
4 oz can green chiles, drained
10 oz can rotel, drained
2 jalapenos, seeded and diced
12 oz cooked chorizo sausage, finely chopped
1 tbsp chili powder
1 1/2 tsp ground cumin
2 tbsp fresh cilantro, chopped
Instructions
Preheat your smoker to 225℉. In a cast iron pan or disposable foil pan, add in sections the cheddar cheese, pepper jack cheese, velveeta cheese and cream cheese. Pour the heavy cream over the cheeses and sprinkle over the green chilies, rotel, diced jalapenos, chorizo sausage, chili powder, and cumin.
Smoke for 30 minutes (the time may vary depending on your smoker) or until the cheeses melted and bubbling slightly. Mix together using a wooden spoon and let smoke for another 10 minutes.
Remove from the smoker and stir in the chopped cilantro, serve with tortilla chips and enjoy!
Nutrition Information
Yield

10
Serving Size

1 small bowl
Amount Per Serving
Calories

509
Total Fat

43g
Saturated Fat

23g
Trans Fat

0g
Unsaturated Fat

15g
Cholesterol

120mg
Sodium

1295mg
Carbohydrates

7g
Fiber

1g
Sugar

3g
Protein

25g