These Baked Italian Sliders are made with provolone cheese, salami, pepperoni, capicola, basil pesto, and topped off with melted butter and Everything seasoning to create the best ever slider sandwiches! These are great for parties or even a family dinner to satisfy everyone.
It has been awhile since I updated my blog (I've been honing my craft!) and I return because I made a recipe that absolutely must be shared – these mouth-watering Baked Italian Siders. I'd love to say that I made these for a party and they were eaten by a group, but that'd be a lie. It was just me and the Italian cold cuts.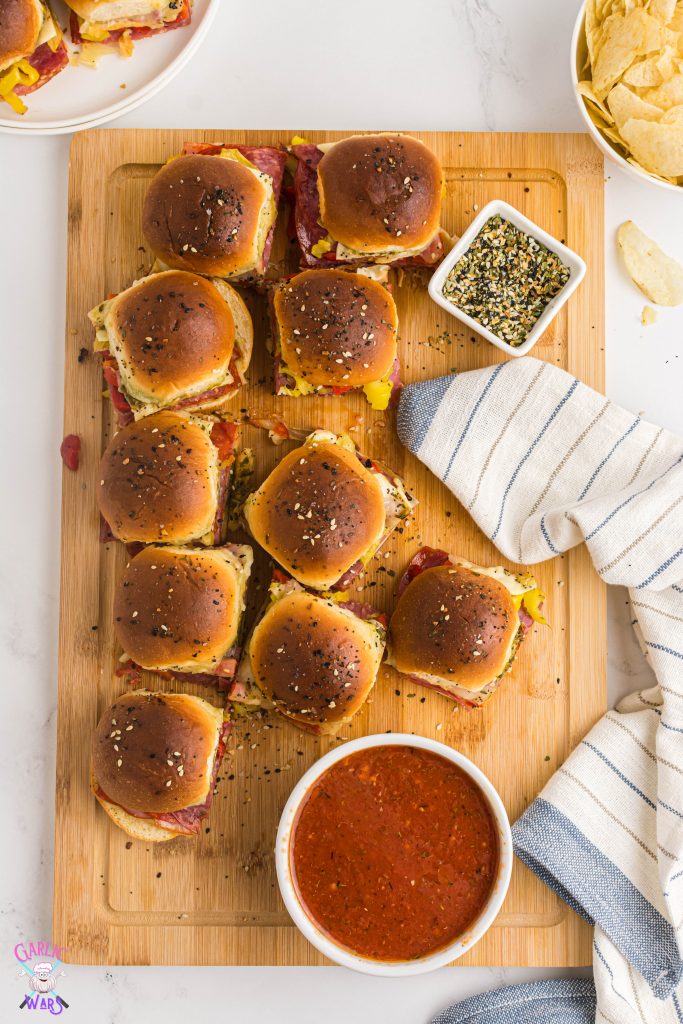 These are made with all my favorite meats – salami, pepperoni, and capicola (gabbagool for my fellow Soprano's fans!) or hot Ialian ham with melty provolone, banana peppers, and roasted red peppers, and slathered in a delicious basil pesto. Once these babies are coated in butter and Everything seasoning and dipped in marinara sauce, you won't be able to stop eating. Best part about this slider recipe? They're super easy!
If you love basil pesto as much as I do, try my Pesto Pasta, inspired by Pixar's Luca!
What do I need to get started?
Slider buns. I used King's Hawaiian Rolls because they are delicious, but any slider rolls at your grocery store will work just fine.
Meats: ham, salami, and pepperoni is the traditional Italian sandwich, but feel free to use anything you love.
Cheese: provolone. I thought the sharp and salty cheese was perfect for these Baked Italian Sliders, but it can be subbed out for your favorite Italian sliced cheese.
Sauce: Basil Pesto. I used store bought for ease, but a homemade recipe would bring these up to 120%.
Toppings: Butter and Everything seasoning. You can sub this our for Italian Seasoning as well.
Optional: Marinara sauce for dipping. Is it optional though? Believe me when I say, you want to dip these!
How to make Baked Italian Sliders
Start by preheating your oven to 350 degrees. Slice the slider rolls in half and arrange the bottom half on a baking sheet.
Slather the bottom half with basil pesto.
Now we want to layer the meats and cheeses: I started with 8 slices of provolone, then I layered on the capicola, salami, then pepperoni.
Evenly distribute the roasted red peppers and banana peppers, then top with MORE provolone.
Place the other half of the slider buns on top and brush on the melted butter on the tops of the rolls, then sprinkle on the seasonings.
Bake for 15 minutes, or until the cheese is melted.
Serve with a small bowl of marinara on the side and enjoy!
Storage and Make Ahead
These Baked Italian Sliders can be stored in an airtight container in the refrigerator for up to 3 days. I do not recommend freezing the sliders – the bread would get hard and crusty.
To reheat after refrigerating, cover with tinfoil and bake for 10 minutes.
You do not need to worry about make ahead, because these are so easy! It will only take about 20 minutes to prepare.
Recipe Variations
All meats and cheese can be swapped out for whatever you love!
Don't like pesto? I don't understand, but I do recommend using garlic aioli, mayo, or whole grain mustard in it's place.
Optional add-ons: olives, capers, artichokes hearts, parmesan cheese, arugula, or crushed red pepper.
Baked Italian Sliders
Baked Italian Sliders made with pepperoni, salami, hot Italian ham, roasted red peppers, banana peppers, basil pesto, provolone, everything seasoning, and Kings Hawaiian Rolls - YUM!
Ingredients
2 packages 9 count King's Hawaiian Slider Rolls
1 cup Basil Pesto (homemade or store bought)
16 slices Provolone Cheese
16 slices Italian Hot Ham, or Capicola
16 slices Sandwich Pepperoni
16 slices Genoa Salami
1 cup roasted red peppers, sliced
1 cup mild banana peppers, sliced
1/2 cup butter, melted
2 tbsp Everything seasoning
Marinara sauce, for dipping (optional)
Instructions
Preheat oven to 325℉, prepare a baking sheet with non-stick cooking spray. If not pre-sliced, slice your slider rolls in half. Place bottom halves on the baking sheet and evenly spread the pesto on the bottom half and the top half.
Begin layering, starting with 8 slices of provolone, 16 slices hot ham, 16 slices pepperoni, and 16 slices salami.
Evenly distribute the roasted red peppers and banana peppers, then top with other 8 slices provolone.
Place the other half of the slider buns on top.
Brush on the melted butter and sprinkle with everything seasoning.
Cover loosely with tin foil and bake for 15 minutes or until the cheese is nicely melted.