Spiced Sweet Rolls (Skyrim Sweetrolls)
Mini fluted cakes spiced with an atmospheric Norwegian spice blend and topped with a creamy orange glaze, these Skyrim Sweetrolls taste like they're straight out of the land of Tamriel.
Let me guess… Someone stole your sweetroll?
November 11th, 2021 marks the 10 year anniversary of the award-winning video game The Elder Scrolls V: Skyrim. When the game released it quickly became a favorite and has been played over and over by fans around the world.
To celebrate the 10 year anniversary, I have recreated the iconic Skyrim Sweetroll. I adjusted the recipe based on the The Elder Scrolls: The Official Cookbook by Chelsea Monroe Cassel. The book is loaded with a bunch of recipes to transport you to Tamriel and Morrowind and I highly recommend picking one up if you want even more info on all the ingredients found in this recipe.
What do I need to make Skyrim Sweetrolls?
A Nordic spice mix. See more info on this below.
Butter.
Milk.
Honey. This is the only sweetener for the roll, no granulated sugar.
Salt.
Egg.
Active Dry Yeast. This is the only leavening agent for this recipe. No baking powder or soda.
All Purpose Flour.
How to make Sweetrolls
Combine some wet ingredients – melted butter, warm milk, and honey – and then add the yeast and salt. Add the egg, flour, and spices and mix it all together, scraping the sides of the bowl, until the batter is smooth. Transfer to a mini fluted pan that has been sprayed with nonstick spray. It is easiest to do this with a spoon or piping bag.
Sweetrolls do contain yeast, but there is not very much rising time – a simple 30 minutes after spooning the mixture into the bundt pan.
After the rolls have risen, they can bake at 350 degrees for 15 – 20 minutes, or until a toothpick inserted in the center comes out clean.
Orange Glaze
For the icing on these Skyrim sweetrolls, I made a creamy orange glaze to offset all the spices. The glaze on it's own is delicious and tastes like an orange creamsicle! To make this, I just mixed up some butter and cream cheese, added sugar, heavy cream, and orange zest. I could eat this stuff with a spoon.
Nordic Spice Blend for Skyrim Sweetrolls
Since I am an extra person, I went all out for these sweetrolls. I purchased all the spices I could and added them to the batter. Do not feel like you have to get all these spices, not unless you really think you'll use them in other things. Don't spend all your hard-earned money on ingredients you will only use in one recipe!
Here is the Nordic Spice Blend I used, from the official cookbook:
1 1/2 tbsp cardamom.
3/4 tsp cinnamon.
1/4 tsp ground mace.
1/4 tsp cloves.
1/8 tsp ground grains of paradise.
If you do not have these, feel free to use any spices you do have – make your own spice mix, or use a store bought mix, like Pumpkin Spice! This is a fun recipe, not something to stress about. You can leave out spices altogether as well.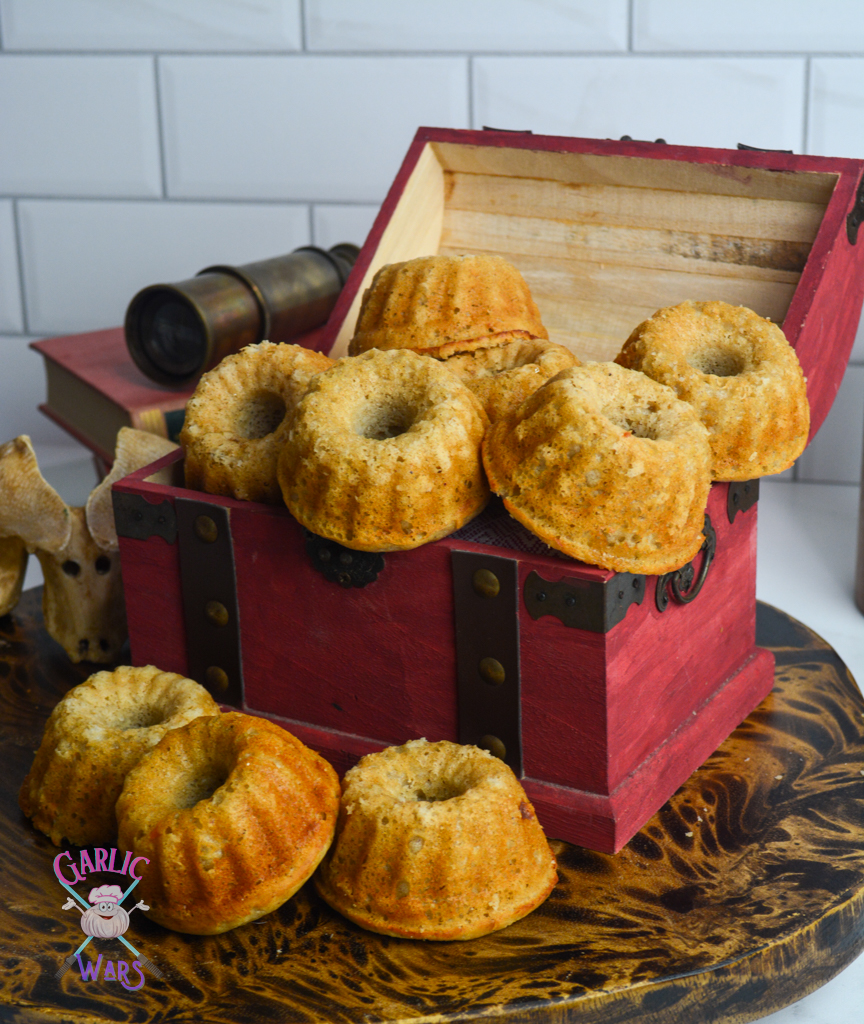 Plug in your chosen console and return to the world of Skyrim while you munch on these sweet, spicy, and creamy treats. Pair them with coffee or breakfast, or have them for dessert!
Spiced Sweetrolls with Orange Glaze
Additional Time:
30 minutes
A sweet and spicy yeasted cake recipe topped with a creamy orange glaze! As seen on The Elder Scrolls V: Skyrim
Ingredients
3 tbsp melted butter
1 cup warm milk
3 tbsp honey
1/8 tsp salt
1 egg
2 tsp active dry yeast
2 cups all purpose flour
2 tsp spice mix (use spice mix detailed above, pumpkin spice, or any spices of your choice from your pantry
Orange Glaze
3 tbsp cream cheese, softened
1 tbsp butter, softened
1/2 cup powdered sugar
Zest of 1/2 an orange
3-4 tbsp heavy cream
Instructions
Combine the melted butter, warm milk, and honey. Whisk together until the honey has dissolved. Add the salt and yeast and whisk. Add the egg and whisk again.
Switch to a rubber spatula and add the flour and spice mixes. Fold together until the mixture is smooth.
Using a spoon or piping bag, transfer the mixture into the cavities of a mini bundt pan, sprayed with non stick spray. Once all the batter is in the pan, preheat the over to 350 and allow the cakes to rise for 30 minutes.
After 30 minutes, move the sweetrolls to the oven and bake for about 15 minutes. Check by inserting a toothpick into the center. If it comes out clean, the rolls are done.
Allow the sweetrolls to cool while you get started on the glaze. Cream together the butter and cream cheese, until completely smooth and lump free. Then add the powdered sugar and orange zest and mix until until smooth. Add the heavy cream slowly, until you've reached your desired consistency.
Once the sweetrolls are completely cool, spoon the icing over the top or the rolls, or dip the rolls into the icing.
Nutrition Information
Yield

6
Serving Size

1 sweetroll
Amount Per Serving
Calories

458
Total Fat

23g
Saturated Fat

14g
Trans Fat

1g
Unsaturated Fat

7g
Cholesterol

95mg
Sodium

170mg
Carbohydrates

56g
Fiber

2g
Sugar

22g
Protein

9g